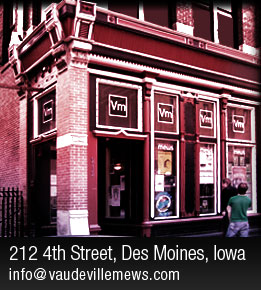 The Huntress and Holder of Hands
09/26/17
With:
Liz Eisenberg

Ash Wednesday
09/29/17
With:
B. Well
The Feel Right
Ontario Phoenix

Palehound
10/02/17
With:
Thunder Dreamer
Good Morning Midnight

Battalion of Saints
10/07/17
With:
The Cryptics
Traffic Death
No Skin
Broken Ones

mewithoutYou
10/08/17
With:
Pianos Become The Teeth

Dalek
10/18/17
With:
Street Sects
Underwater Escape From the Black Hole

Thee Commons
10/19/17
With:
The Vahnevants

Bob Log III
10/22/17
With:
CR Dicks
Goldblums
Greg Wheeler and The Polygamist Mall Cops
Eric Kennedy

David Ramirez
10/23/17
With:
Molly Parden

Cults
10/26/17
With:
Cullen Omori
Hideout

Selector Dub Narcotic
10/28/17
With:
Ramona and the Sometimes
Karen Meat

Har Mar Superstar
10/28/17
With:
High Up

Buzzov-en
11/02/17
With:
Earthride



Jessica Lea Mayfield
11/15/17
With:
Blank Range

Carti Bankx
11/22/17
With:
Ted Park
Wave Chapelle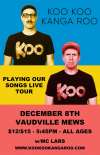 Koo Koo Kanga Roo
12/08/17
With:
MC Lars

The Dip
Sat, May 6, Doors: 9:30 pm - Show: 10:00 pm - 21+ - $10
Artist Website
The Vaudeville Mews presents...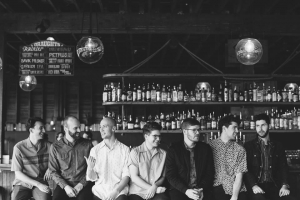 "Hailing from Seattle, The Dip is an electrifying seven-piece ensemble that melds vintage rhythm and blues and modern pop with "impeccably crafted, 60's-steeped soul" (KEXP). The group quickly gained notoriety throughout the Pacific Northwest for their eminently danceable live shows that feature the powerful vocals of frontman Tom Eddy (Beat Connection), bolstered by the deep pocket of their unmistakably detailed rhythm section, and the spirited melodies of "The Honeynut Horns". Hard-hitting but sensitive, The Dip harkens back to the deep soul roots of the decades past and pays tribute to this history through the grit and grace of their performances. The band's 2015 self-titled debut, recorded to tape at Avast! Studios, propelled them to notable appearances at prodigious festivals such as Sasquatch! Music Festival, High Sierra Music Fest, Summer Meltdown, and Capitol Hill Block Party as well as built anticipation for their 2016 release, Won't Be Coming Back (EP). The band finds themselves prepping for a busy 2017 with a three week national tour scheduled for this Spring, and the release of a brand new single entitled "Sure Don't Miss You" (vinyl release from Colemine Records). Whether young or old, you can't help yourself from grinning ear-to-ear when you see these gentlemen hit the stage. I wouldn't hold back dancing for that matter either! Ladies and gentleman, give it up for The Dip! Hit up the dance floor, and put it in your hip!"
With:
Paige Harpin Group
Buy tickets online!
---
&copy 2017 Vaudeville Mews