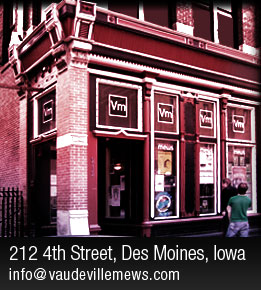 Unwed Sailor
04/27/18
With:
Early Day Miners
The Autumn Project
Canby (solo)

McKinley Dixon
04/29/18
With:
Johnny Marz

Kitten Forever
05/04/18
With:
Royal Brat
Goldblums
Quick Piss

Once & Future Band
05/04/18
With:
Sires
The Riff Raff


P.O.S
05/10/18
With:
DJ Rowsheen
Serengeti


Smoke DZA
05/26/18
With:
Bodega Bamz
Jayy Grams


Honeycreeper (ep release party)
06/02/18
With:
Lipstick Homicide
Ramona and the Sometimes
Greg Wheeler and The Polygamist Mall Cops


Snail Mail
06/18/18
With:
Bonny Doon
Anna Burch

The 4onthefloor
06/23/18
With:
Danny Wolf
The Haunted Hallows

David Ramirez : The Bootleg Tour (live album recording)
06/24/18
With:
Matthew Wright

The Posies
06/25/18
With:
Terra Lightfoot

Electric Six
07/11/18
With:
Mark Mallman
Easy Fruit

Slim Cessna's Auto Club
08/27/18
With:
Matthew James & the Rust Belt Union

Stephen Jay and Jim "Kimo" West
Sun, April 1, Doors: 6:00 pm - Show: 6:30 pm - All Ages - $15
The Vaudeville Mews presents...
Stephen Jay and Jim West are original and continuing members of "Weird Al" Yankovic's band, having recorded and toured with the legendary musical satirist for over three decades. They are currently touring with Weird Al on his Ridiculously Self-Indulgent Ill-Advised Vanity Tour throughout North America. This one-time appearance at Vaudeville Mews as part of their "parallel" tour is a rare opportunity to experience their unique musical voices and master musicianship as shape-shifting solo artists. Stephen Jay's bass-driven funk is an exotic blend of world influenced polyrhythmic grooves seasoned with elements of jazz and rock. His combination of ethnic and modern instruments and styles results in unique, richly textured musical images. Steve's songs assault you with intricate complexity, assuage you with timeless melodies, and offer an oasis for the soul. Stephen has been voted one of "Today's 20 Top Bassists" by International Musician and Recording World magazine. Jim Kimo West is recognized as one of the world's top "slack key" guitarists and brings his own unique musical perspective to this great acoustic guitar tradition. He is a recent winner of the Hawaii Music Awards, a Na Hoku Hanohano (the Hawaiian "Grammy") nominee and a two-time winner of the LA Treasures Award for his contributions toward the perpetuation of ki ho'alu.
With:
Stephen Jay
Jim "Kimo" West
Buy tickets online!
---
&copy 2018 Vaudeville Mews