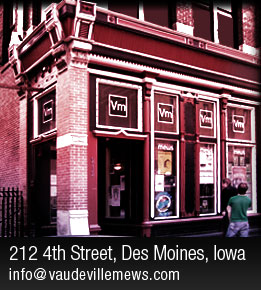 The Frights
08/02/17
With:
King Shelter
On Drugs
Land of Blood and Sunshine

Psychic Temple
08/09/17
With:
Karen Meat



Ghost Bath
08/18/17
With:
Idolist


Emma Ruth Rundle
08/30/17
With:
Jaye Jayle

Gloom Balloon (record release party)
09/01/17
With:
Glitter Density
Derek Muse Lambert

Gloom Balloon (record release party)
09/01/17
With:
Foxholes
Dustin Smith

Street Heat
09/03/17
With:
Plack Blague
Gosh
Younger
City Counselor
Hot Tang
Conny Franko
Odd Pets
Pizza Babe

Lich King
09/11/17
With:
Against The Grain
Hidden Intent

Cherry Glazerr
09/13/17
With:
Winter



Black Joe Lewis & The Honeybears
09/22/17


Thee Commons
10/19/17
With:
The Vahnevants

Selector Dub Narcotic
10/28/17
With:
Ramona and the Sometimes
Karen Meat

Gross Domestic Product
Sat, April 29, Doors: 5:00 pm - Show: 5:00 pm - All Ages - $5
Artist Website
Des Moines Music Coalition presents...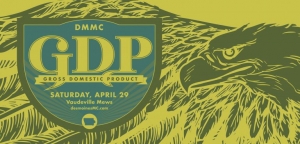 Gross Domestic Product (GDP) is an all Iowa music festival featuring musical artists from Greater Des Moines and across Iowa. Coordinated by the Des Moines Music Coalition and a team of volunteers, the goals of GDP are to organize an event that best supports Iowa musicians and their needs. For 2017, our focus is to boost exposure and build the audience for smaller, up-and-coming Iowa acts, to bring more acts from outside the Des Moines area to expose local artists to new ideas, and to continue supporting the genre diversity represented in the 2016 festival. As in the past, GDP continues to support primarily young and new artists who are taking their first steps into creative self-expression through music and doing so in a positive, collaborative way.
With:
Aseethe
Neon & Nude
Dustin Smith
Younger
Buy tickets online!
---
&copy 2017 Vaudeville Mews