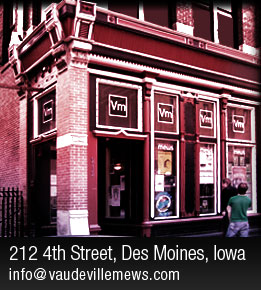 The Frights
08/02/17
With:
King Shelter
On Drugs
Land of Blood and Sunshine

Psychic Temple
08/09/17
With:
Karen Meat



Ghost Bath
08/18/17
With:
Idolist


Emma Ruth Rundle
08/30/17
With:
Jaye Jayle

Gloom Balloon (record release party)
09/01/17
With:
Glitter Density
Derek Muse Lambert

Gloom Balloon (record release party)
09/01/17
With:
Foxholes
Dustin Smith

Street Heat
09/03/17
With:
Plack Blague
Gosh
Younger
City Counselor
Hot Tang
Conny Franko
Odd Pets
Pizza Babe

Lich King
09/11/17
With:
Against The Grain
Hidden Intent

Cherry Glazerr
09/13/17
With:
Winter



Black Joe Lewis & The Honeybears
09/22/17


Thee Commons
10/19/17
With:
The Vahnevants

Selector Dub Narcotic
10/28/17
With:
Ramona and the Sometimes
Karen Meat

When Particles Collide
Sat, August 5, Doors: 9:30 pm - Show: 10:00 pm - 21+ - $5
Artist Website
The Vaudeville Mews presents...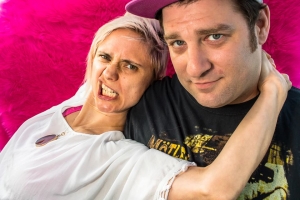 In March of 2010 Sasha and Chris met when they were both cast in a Bangor Maine production of Hedwig and The Angry Inch. Sasha played guitar and Chris played drums. They fell in love with playing together and later just plain old fell in love. In January of 2011 They played their first official show as When Particles Collide and since then have been on a non-stop rock 'n roll adventure. Since the summer of 2012 When Particles Collide has been touring the country for 9-14 weeks per year and playing consistently across New England the other 43-38 weeks. All told the duo racks up between 70-100 shows per year resulting in one of the most dynamic, engaging and professional live shows you can see at a mid sized venue.
With:
Curse WordNight Like This
---
&copy 2017 Vaudeville Mews