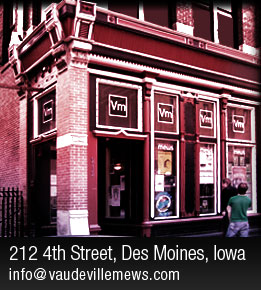 The Frights
08/02/17
With:
King Shelter
On Drugs
Land of Blood and Sunshine

Psychic Temple
08/09/17
With:
Karen Meat



Ghost Bath
08/18/17
With:
Idolist


Emma Ruth Rundle
08/30/17
With:
Jaye Jayle

Gloom Balloon (record release party)
09/01/17
With:
Glitter Density
Derek Muse Lambert

Gloom Balloon (record release party)
09/01/17
With:
Foxholes
Dustin Smith

Street Heat
09/03/17
With:
Plack Blague
Gosh
Younger
City Counselor
Hot Tang
Conny Franko
Odd Pets
Pizza Babe

Lich King
09/11/17
With:
Against The Grain
Hidden Intent

Cherry Glazerr
09/13/17
With:
Winter



Black Joe Lewis & The Honeybears
09/22/17


Thee Commons
10/19/17
With:
The Vahnevants

Selector Dub Narcotic
10/28/17
With:
Ramona and the Sometimes
Karen Meat

You Bred Raptors?
The Vaudeville Mews presents...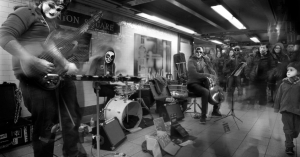 We are a three piece instrumental busking band out of New York City. Our songs are crafted with 8-string bass, cello, drums and two glockenspiels. The compositions have a heavy, post-rock, experimental, film score-like sound. Through tireless performance in the NYC subways with the Music Under New York program (MUNY), we are dedicated to reaching every demographic possible. Because the majority of our CDs are sold in the subway, our music is all over the globe and we have dedicated fans in dozens of countries. In some of the locations we play, hundreds of thousands of people will pass through the turnstiles every hour. As a band, we have played over 350 shows in the subway alone.
With:
Tree Branch Twig
---
&copy 2017 Vaudeville Mews