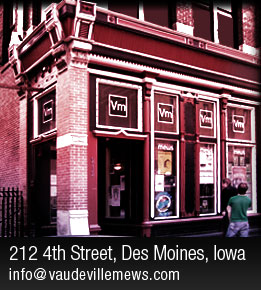 Unwed Sailor
04/27/18
With:
Early Day Miners
The Autumn Project
Canby (solo)

McKinley Dixon
04/29/18
With:
Johnny Marz

Kitten Forever
05/04/18
With:
Royal Brat
Goldblums
Quick Piss

Once & Future Band
05/04/18
With:
Sires
The Riff Raff


P.O.S
05/10/18
With:
DJ Rowsheen
Serengeti


Smoke DZA
05/26/18
With:
Bodega Bamz
Jayy Grams


Honeycreeper (ep release party)
06/02/18
With:
Lipstick Homicide
Ramona and the Sometimes
Greg Wheeler and The Polygamist Mall Cops


Snail Mail
06/18/18
With:
Bonny Doon
Anna Burch

The 4onthefloor
06/23/18
With:
Danny Wolf
The Haunted Hallows

David Ramirez : The Bootleg Tour (live album recording)
06/24/18
With:
Matthew Wright

The Posies
06/25/18
With:
Terra Lightfoot

Electric Six
07/11/18
With:
Mark Mallman
Easy Fruit

Slim Cessna's Auto Club
08/27/18
With:
Matthew James & the Rust Belt Union

The Twilight Hours
Sun, April 22, Doors: 6:00 pm - Show: 6:30 pm - All Ages - $15
Artist Website
The Vaudeville Mews presents...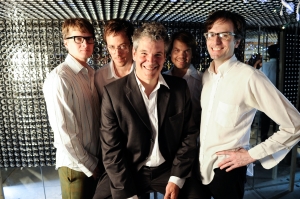 John Munson and Matt Wilson of the Minneapolis band The Twilight Hours grew up on opposite sides of Minnesota's Twin Cities. But the two came together as teenagers in a rock band, and they've been drawn to one another ever since. The group's primary songwriter Matt Wilson was raised in St. Louis Park where he became a fan of Elvis Costello, The Police and Bruce Springsteen. Initially, Matt had chosen to play the drums which suited his hyperactive energy. As a drummer, Matt and high school friends formed a rock group called The Panic, spending much of their high school years as under-aged performers in Minneapolis nightclubs, warming up for future luminaries Husker Du and The Replacements at Minneapolis' 7th Street Entry, and for U2 at First Avenue. Matt eventually followed his brother to college at Harvard University where they performed in bands together, including the Love Monsters, marking Matt's first turn as a songwriter and lead singer. That group won the school's Battle of the Bands earning a chance to record a 4 song 7-inch EP. Matt quit school before his senior year to learn to play guitar and to make music full time.
With:
Left is West
Buy tickets online!
---
&copy 2018 Vaudeville Mews