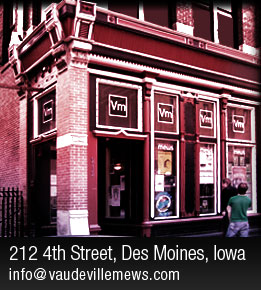 Carti Bankx
11/22/17
With:
Ted Park
Wave Chapelle

Crowbar
11/26/17
With:
Tombs
Incite
Tricounty Terror
Absolute Power
Grossfacekilla

Hockey Dad
11/27/17
With:
Contakta
The Host Country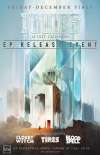 Druids EP Release Party
12/01/17
With:
Tires
Closet Witch
Blood Spell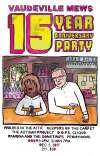 Vm 15 year Anniversary Party!
12/02/17
With:
Keepers of the Carpet
Wolves in the Attic
The Autumn Project
D.O.P.E. Clique
Ramona and the Sometimes
Pennyhawk

Juanita Stein
12/04/17
With:
Squirrel Flower

Healing Together: A Fundraiser
12/06/17
With:
Glitter Density
Annalibera (solo)
Collidescope
Maddie Johnson (poet)

Exhumed
12/07/17
With:
Arkaik
Traffic Death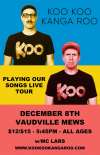 Koo Koo Kanga Roo
12/08/17
With:
MC Lars

Brilliant Crafts and Wares Fair 5
12/10/17

Hugh Masterson
12/11/17
With:
Dustin Smith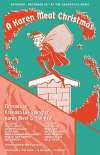 A Karen Meat Christmas
12/16/17
With:
Brendan Lee Spengler
Extravision

Winterland's New Years Eve Celebration
12/31/17
With:
Pale Blue Erf

Mammoth Grinder
02/22/18
With:
Idolist
Blood Spell

Shady Bug
Sun, August 20, Doors: 5:30 pm - Show: 6:00 pm - All Ages - $5
Artist Website
The Vaudeville Mews presents...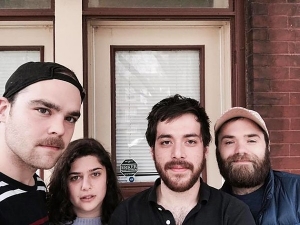 Rainey twins Hannah and Delia have always been magic creatures, spinning fairy tales, acoustic guitar and warbly intuitive harmonies into shadow-dappled metaphors via their band Dubb Nubb. Shady Bug is Hannah Rainey's more earthbound iteration, expressing her experiences in the heart of STL's bustling DIY scene. On its debut album, tbh idk, it's thrilling to hear the capacities of an already impressive songwriter expand dramatically with the addition of creative, rocket-fueled drums and distortion in the classic loud-quiet-loud tradition. Endearingly weird bent notes abound, and the project doesn't sound like Dubb Nubb electrified - it's a true meshing of styles with her bandmates, who seem to be channeling equal parts Mac DeMarco and K Records. The band's occasional vocal harmonies are as crucial to the sound as the chorus effect on Hannah's guitar, and the whole thing rolls comfortably between casual and epic, a surprisingly polished sound from the underground.
With:
Glitter Density
---
&copy 2017 Vaudeville Mews