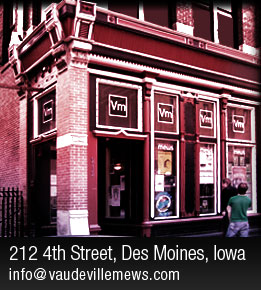 The Frights
08/02/17
With:
King Shelter
On Drugs
Land of Blood and Sunshine

Psychic Temple
08/09/17
With:
Karen Meat



Ghost Bath
08/18/17
With:
Idolist


Emma Ruth Rundle
08/30/17
With:
Jaye Jayle

Gloom Balloon (record release party)
09/01/17
With:
Glitter Density
Derek Muse Lambert

Gloom Balloon (record release party)
09/01/17
With:
Foxholes
Dustin Smith

Street Heat
09/03/17
With:
Plack Blague
Gosh
Younger
City Counselor
Hot Tang
Conny Franko
Odd Pets
Pizza Babe

Lich King
09/11/17
With:
Against The Grain
Hidden Intent

Cherry Glazerr
09/13/17
With:
Winter



Black Joe Lewis & The Honeybears
09/22/17


Thee Commons
10/19/17
With:
The Vahnevants

Selector Dub Narcotic
10/28/17
With:
Ramona and the Sometimes
Karen Meat

GGOOLLDD
Fri, February 24, Doors: 6:00 pm - Show: 6:30 pm - All Ages - $12
Artist Website
The Vaudeville Mews presents...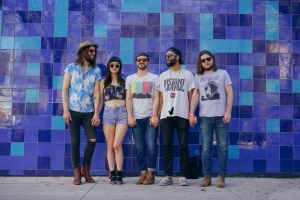 GGOOLLDD isn't like other bands. They formed on whim, decided to play their first show mostly as an excuse to host a killer party, and they eschew the traditional gotta-get-a-record-deal game in favor of playing a lot of shows and releasing their own material. That sense of whimsy blended with resolute autonomy is all part of the signature GGOOLLDD aesthetic. And it feeds into their sound, especially lately. "Undercovers," their new single, is a soaring banger that conjures wind-in-your-hair glittery romanticism. Co-produced and mixed by Ben H. Allen (MIA, Animal Collective) it reflects that core tension in GGOOLLDD between winging it and great artistry. "I'm not going to lie, I'm great at writing a hook," Butler says, and is quick to point out that her bandmates are "amazing," musicians. "But if you ask me what I do, I'm going to tell you that I'm a performer before I tell you that I'm a musician." She pauses and cracks up. "Unless you don't know me at all," she continues. "Then I'm going to say I'm a musician, because if I say I'm a performer, you're going to automatically think that I'm a stripper, which is totally ok too but not my current profession."
With:
Real Dom
Buy tickets online!
---
&copy 2017 Vaudeville Mews