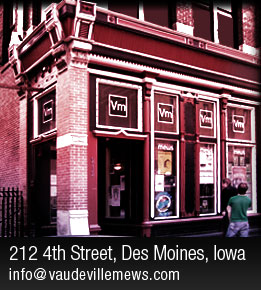 The Huntress and Holder of Hands
09/26/17
With:
Liz Eisenberg

Ash Wednesday
09/29/17
With:
B. Well
The Feel Right
Ontario Phoenix

Palehound
10/02/17
With:
Thunder Dreamer
Good Morning Midnight

Battalion of Saints
10/07/17
With:
The Cryptics
Traffic Death
No Skin
Broken Ones

mewithoutYou
10/08/17
With:
Pianos Become The Teeth

Dalek
10/18/17
With:
Street Sects
Underwater Escape From the Black Hole

Thee Commons
10/19/17
With:
The Vahnevants

Bob Log III
10/22/17
With:
CR Dicks
Goldblums
Greg Wheeler and The Polygamist Mall Cops
Eric Kennedy

David Ramirez
10/23/17
With:
Molly Parden

Cults
10/26/17
With:
Cullen Omori
Hideout

Selector Dub Narcotic
10/28/17
With:
Ramona and the Sometimes
Karen Meat

Har Mar Superstar
10/28/17
With:
High Up

Buzzov-en
11/02/17
With:
Earthride



Jessica Lea Mayfield
11/15/17
With:
Blank Range

Carti Bankx
11/22/17
With:
Ted Park
Wave Chapelle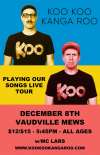 Koo Koo Kanga Roo
12/08/17
With:
MC Lars

Ramona and the Sometimes (album release party)
Sat, July 22, Doors: 5:00 pm - Show: 5:30 pm - All Ages - $7
Artist Website
The Vaudeville Mews presents...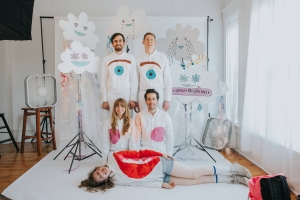 Ramona and the Sometimes is the latest evolution in the colorful art-pop saga of singer/performer/multimedia visual artist Ramona Muse Lambert. The original version of the band began when collaborator Leslie Hall billed "Ramona and the Swimsuits" to open a show in Minneapolis…and so that band was created. They spent a month and a half opening for Leslie and the Lys on tour in 2011. Later Ramona performed solo, but that quickly evolved into Ramona and the Slimdudes in 2014. Her brother Willy Muse (bassist for Widowspeak) wouldn't get off her couch, so they formed a trio with her husband Derek Muse Lambert. She eventually collected more band members because of their love of casually making music and eating dinner together. Ramona and the Sometimes new full-length record "Negative Space is a Positive Thing" will be released on July 22nd, and is bigger, wilder, and sparklier than anything they've done yet.
With:
Tires
Hot Tang
Glitter Density
Buy tickets online!
---
&copy 2017 Vaudeville Mews