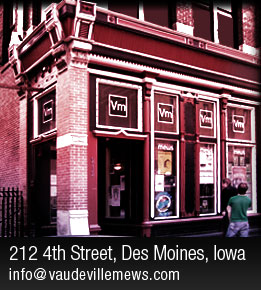 The Frights
08/02/17
With:
King Shelter
On Drugs
Land of Blood and Sunshine

Psychic Temple
08/09/17
With:
Karen Meat



Ghost Bath
08/18/17
With:
Idolist


Emma Ruth Rundle
08/30/17
With:
Jaye Jayle

Gloom Balloon (record release party)
09/01/17
With:
Glitter Density
Derek Muse Lambert

Gloom Balloon (record release party)
09/01/17
With:
Foxholes
Dustin Smith

Street Heat
09/03/17
With:
Plack Blague
Gosh
Younger
City Counselor
Hot Tang
Conny Franko
Odd Pets
Pizza Babe

Lich King
09/11/17
With:
Against The Grain
Hidden Intent

Cherry Glazerr
09/13/17
With:
Winter



Black Joe Lewis & The Honeybears
09/22/17


Thee Commons
10/19/17
With:
The Vahnevants

Selector Dub Narcotic
10/28/17
With:
Ramona and the Sometimes
Karen Meat

Ramona and the Sometimes (album release party)
Sat, July 22, Doors: 5:00 pm - Show: 5:30 pm - All Ages - $7
Artist Website
The Vaudeville Mews presents...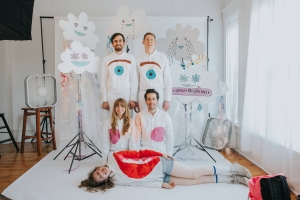 Ramona and the Sometimes is the latest evolution in the colorful art-pop saga of singer/performer/multimedia visual artist Ramona Muse Lambert. The original version of the band began when collaborator Leslie Hall billed "Ramona and the Swimsuits" to open a show in Minneapolis…and so that band was created. They spent a month and a half opening for Leslie and the Lys on tour in 2011. Later Ramona performed solo, but that quickly evolved into Ramona and the Slimdudes in 2014. Her brother Willy Muse (bassist for Widowspeak) wouldn't get off her couch, so they formed a trio with her husband Derek Muse Lambert. She eventually collected more band members because of their love of casually making music and eating dinner together. Ramona and the Sometimes new full-length record "Negative Space is a Positive Thing" will be released on July 22nd, and is bigger, wilder, and sparklier than anything they've done yet.
With:
Tires
Hot Tang
Glitter Density
Buy tickets online!
---
&copy 2017 Vaudeville Mews