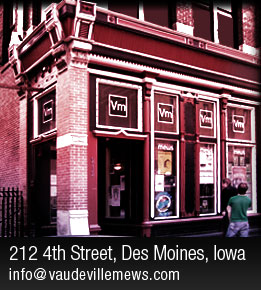 Unwed Sailor
04/27/18
With:
Early Day Miners
The Autumn Project
Canby (solo)

McKinley Dixon
04/29/18
With:
Johnny Marz

Kitten Forever
05/04/18
With:
Royal Brat
Goldblums
Quick Piss

Once & Future Band
05/04/18
With:
Sires
The Riff Raff


P.O.S
05/10/18
With:
DJ Rowsheen
Serengeti


Smoke DZA
05/26/18
With:
Bodega Bamz
Jayy Grams


Honeycreeper (ep release party)
06/02/18
With:
Lipstick Homicide
Ramona and the Sometimes
Greg Wheeler and The Polygamist Mall Cops


Snail Mail
06/18/18
With:
Bonny Doon
Anna Burch

The 4onthefloor
06/23/18
With:
Danny Wolf
The Haunted Hallows

David Ramirez : The Bootleg Tour (live album recording)
06/24/18
With:
Matthew Wright

The Posies
06/25/18
With:
Terra Lightfoot

Electric Six
07/11/18
With:
Mark Mallman
Easy Fruit

Slim Cessna's Auto Club
08/27/18
With:
Matthew James & the Rust Belt Union

Kitten Forever
Fri, May 4, Doors: 5:30 pm - Show: 6:00 pm - All Ages - $7
Artist Website
The Vaudeville Mews presents...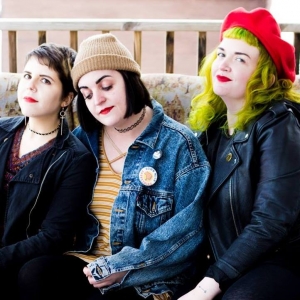 Kitten Forever is a Minneapolis-based drums and bass trio. Corrie Harrigan, Laura Larson, and Liz Elton have been playing music together for over 10 years. The trio trades off duties on each instrument, giving equal time on drums, bass, and vocals to everyone. This democratic approach to performing and song writing gives the band a unified front, deconstructing traditional stage hierarchy, as well as a diverse set of perspectives, with unique sounds and styles for each performer. Their fuzzed out, caustic, party punk is inspired by equal parts friendship and feminism, using a stripped down aesthetic to showcase big emotions. A band of bratty banshee best friends, Kitten Forever believes in each other, pets, magic, and you.
With:
Royal Brat
Goldblums
Quick Piss
---
&copy 2018 Vaudeville Mews