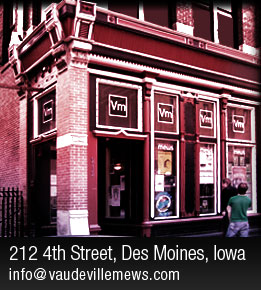 The Huntress and Holder of Hands
09/26/17
With:
Liz Eisenberg

Palehound
10/02/17
With:
Thunder Dreamer
Good Morning Midnight

Battalion of Saints
10/07/17
With:
The Cryptics
Traffic Death
No Skin
Broken Ones

mewithoutYou
10/08/17
With:
Pianos Become The Teeth

Dalek
10/18/17
With:
Street Sects
Underwater Escape From the Black Hole

Thee Commons
10/19/17
With:
The Vahnevants

Bob Log III
10/22/17
With:
CR Dicks
Goldblums
Greg Wheeler and The Polygamist Mall Cops
Eric Kennedy

David Ramirez
10/23/17
With:
Molly Parden

Cults
10/26/17
With:
Cullen Omori
Hideout

Selector Dub Narcotic
10/28/17
With:
Ramona and the Sometimes
Karen Meat

Har Mar Superstar
10/28/17
With:
High Up

Buzzov-en
11/02/17
With:
Earthride



Jessica Lea Mayfield
11/15/17
With:
Blank Range

Carti Bankx
11/22/17
With:
Ted Park
Wave Chapelle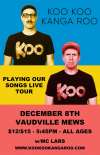 Koo Koo Kanga Roo
12/08/17
With:
MC Lars

King Cardinal
Tue, August 22, Doors: 6:00 pm - Show: 6:30 pm - All Ages - $5
Artist Website
The Vaudeville Mews presents...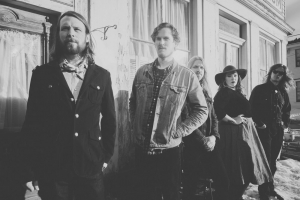 "I moved to Denver on a whim," says King Cardinal founder Brennan Mackey. "I'd been living in Chicago, working a finance job that I didn't love, and I knew exactly what the rest of my life would look like if I stayed there. I decided I wanted to throw everything up in the air and see where it landed." It makes sense, then, that the cover of King Cardinal's stellar debut album, 'Great Lakes,' depicts a man catapulting himself headlong into the unknown, trading safety and security for adventure and excitement as he leaps over a protective railing. If the record is any indication, Mackey's own bold leaps have paid off in spades. Pushing raw roots rock into lush, sonically daring territory with hints of cosmic country and delicate folk, 'Great Lakes' showcases the five-piece group's exceptional musicianship and the powerful emotional depth of the vocal interplay between Mackey and fellow singer Texanna Dennie.
With:
Mississippi Jake
---
&copy 2017 Vaudeville Mews