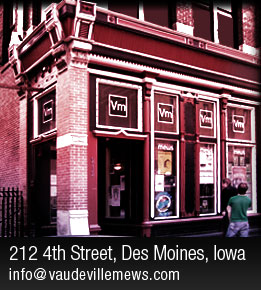 The Frights
08/02/17
With:
King Shelter
On Drugs
Land of Blood and Sunshine

Psychic Temple
08/09/17
With:
Karen Meat



Ghost Bath
08/18/17
With:
Idolist


Emma Ruth Rundle
08/30/17
With:
Jaye Jayle

Gloom Balloon (record release party)
09/01/17
With:
Glitter Density
Derek Muse Lambert

Gloom Balloon (record release party)
09/01/17
With:
Foxholes
Dustin Smith

Street Heat
09/03/17
With:
Plack Blague
Gosh
Younger
City Counselor
Hot Tang
Conny Franko
Odd Pets
Pizza Babe

Lich King
09/11/17
With:
Against The Grain
Hidden Intent

Cherry Glazerr
09/13/17
With:
Winter



Black Joe Lewis & The Honeybears
09/22/17


Thee Commons
10/19/17
With:
The Vahnevants

Selector Dub Narcotic
10/28/17
With:
Ramona and the Sometimes
Karen Meat

Best of Fools
Sat, March 4, Doors: 9:30 pm - Show: 10:00 pm - 21+ - $5
Artist Website
The Vaudeville Mews presents...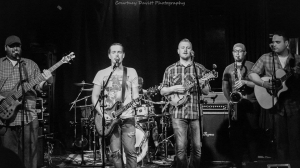 Best of Fools are an original, violin infused alt rock band from Des Moines, IA. A band with a large scope of influences and a collective open mind provides a variety of tempo and melody for a myriad of concert goers to enjoy. A typical BOF show will often include the simplicity of acoustic singer/songwriter style songs, up through the huge open sounds of progressive or psychedelic rock. The recent permanent addition of violin to the group, along with several different special guest musicians at live shows, has only expanded the range of sounds that BOF offer. The core of the group has been together for over a decade and they have finally found the right surrounding pieces.
With:
Luke Fox
---
&copy 2017 Vaudeville Mews