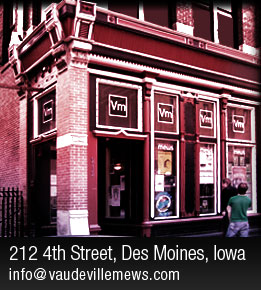 The Huntress and Holder of Hands
09/26/17
With:
Liz Eisenberg

Palehound
10/02/17
With:
Thunder Dreamer
Good Morning Midnight

Battalion of Saints
10/07/17
With:
The Cryptics
Traffic Death
No Skin
Broken Ones

mewithoutYou
10/08/17
With:
Pianos Become The Teeth

Dalek
10/18/17
With:
Street Sects
Underwater Escape From the Black Hole

Thee Commons
10/19/17
With:
The Vahnevants

Bob Log III
10/22/17
With:
CR Dicks
Goldblums
Greg Wheeler and The Polygamist Mall Cops
Eric Kennedy

David Ramirez
10/23/17
With:
Molly Parden

Cults
10/26/17
With:
Cullen Omori
Hideout

Selector Dub Narcotic
10/28/17
With:
Ramona and the Sometimes
Karen Meat

Har Mar Superstar
10/28/17
With:
High Up

Buzzov-en
11/02/17
With:
Earthride



Jessica Lea Mayfield
11/15/17
With:
Blank Range

Carti Bankx
11/22/17
With:
Ted Park
Wave Chapelle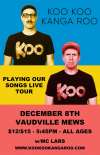 Koo Koo Kanga Roo
12/08/17
With:
MC Lars

Shady Bug
Sun, August 20, Doors: 5:30 pm - Show: 6:00 pm - All Ages - $5
Artist Website
The Vaudeville Mews presents...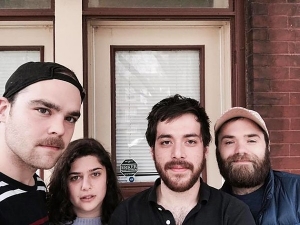 Rainey twins Hannah and Delia have always been magic creatures, spinning fairy tales, acoustic guitar and warbly intuitive harmonies into shadow-dappled metaphors via their band Dubb Nubb. Shady Bug is Hannah Rainey's more earthbound iteration, expressing her experiences in the heart of STL's bustling DIY scene. On its debut album, tbh idk, it's thrilling to hear the capacities of an already impressive songwriter expand dramatically with the addition of creative, rocket-fueled drums and distortion in the classic loud-quiet-loud tradition. Endearingly weird bent notes abound, and the project doesn't sound like Dubb Nubb electrified - it's a true meshing of styles with her bandmates, who seem to be channeling equal parts Mac DeMarco and K Records. The band's occasional vocal harmonies are as crucial to the sound as the chorus effect on Hannah's guitar, and the whole thing rolls comfortably between casual and epic, a surprisingly polished sound from the underground.
With:
Glitter Density
---
&copy 2017 Vaudeville Mews