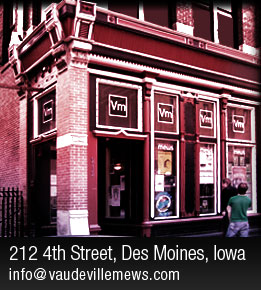 The Huntress and Holder of Hands
09/26/17
With:
Liz Eisenberg

Ash Wednesday
09/29/17
With:
B. Well
The Feel Right
Ontario Phoenix

Palehound
10/02/17
With:
Thunder Dreamer
Good Morning Midnight

Battalion of Saints
10/07/17
With:
The Cryptics
Traffic Death
No Skin
Broken Ones

mewithoutYou
10/08/17
With:
Pianos Become The Teeth

Dalek
10/18/17
With:
Street Sects
Underwater Escape From the Black Hole

Thee Commons
10/19/17
With:
The Vahnevants

Bob Log III
10/22/17
With:
CR Dicks
Goldblums
Greg Wheeler and The Polygamist Mall Cops
Eric Kennedy

David Ramirez
10/23/17
With:
Molly Parden

Cults
10/26/17
With:
Cullen Omori
Hideout

Selector Dub Narcotic
10/28/17
With:
Ramona and the Sometimes
Karen Meat

Har Mar Superstar
10/28/17
With:
High Up

Buzzov-en
11/02/17
With:
Earthride



Jessica Lea Mayfield
11/15/17
With:
Blank Range

Carti Bankx
11/22/17
With:
Ted Park
Wave Chapelle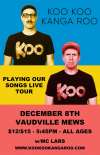 Koo Koo Kanga Roo
12/08/17
With:
MC Lars

Electric Six
Wed, June 7, Doors: 8:00 pm - Show: 9:00 pm - 21+ - $15
Artist Website
The Vaudeville Mews presents...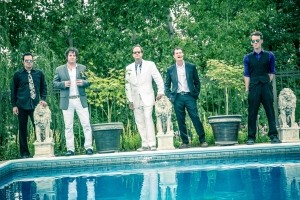 Eternal life can seem like an eternity. Ask any vampire. The continuous march of sun ups, sun downs, transformations of form, seductions, cape fittings & exsanguinations. Eventually it all just becomes an endless, tired routine. It all seems so exciting & so sexy to those of us who operate knowing we have limited time. But ask any vampire about the downside of eternal life, & you won't be surprised to hear tales of binge eating garlic bread just to feel the hurt, or of the occasional dangling of a wooden stake just over the center of the rib cage. Electric Six knows all about eternal life. Electric Six has been around forever & it can never die. That's lovely, but it's also very tiring. Fresh Blood For Tired Vampyres is the new release by Electric Six on Metropolis Records.
With:
Northern Faces
The Rumours
Buy tickets online!
---
&copy 2017 Vaudeville Mews