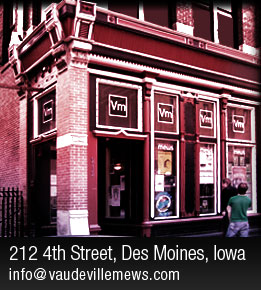 Crowbar
11/26/17
With:
Tombs
Incite
Tricounty Terror
Absolute Power
Grossfacekilla

Hockey Dad
11/27/17
With:
Contakta
The Host Country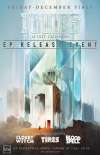 Druids EP Release Party
12/01/17
With:
Tires
Closet Witch
Blood Spell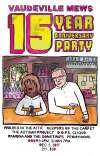 Vm 15 year Anniversary Party!
12/02/17
With:
Keepers of the Carpet
Wolves in the Attic
The Autumn Project
D.O.P.E. Clique
Ramona and the Sometimes
Pennyhawk

Juanita Stein
12/04/17
With:
Squirrel Flower

Healing Together: A Fundraiser
12/06/17
With:
Glitter Density
Annalibera (solo)
Collidescope
Maddie Johnson (poet)

Exhumed
12/07/17
With:
Arkaik
Traffic Death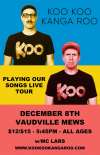 Koo Koo Kanga Roo
12/08/17
With:
MC Lars

Brilliant Crafts and Wares Fair 5
12/10/17

Hugh Masterson
12/11/17
With:
Dustin Smith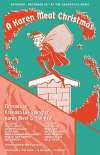 A Karen Meat Christmas
12/16/17
With:
Brendan Lee Spengler
Extravision

Winterland's New Years Eve Celebration
12/31/17
With:
Pale Blue Erf

Mammoth Grinder
02/22/18
With:
Idolist
Blood Spell

Downtown Boys
Fri, August 18, Doors: 9:30 pm - Show: 10:00 pm - 21+ - $10
Artist Website
The Vaudeville Mews presents...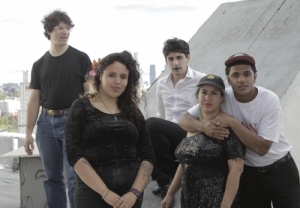 Downtown Boys are keenly aware of the increased visibility and credibility that comes with signing to a corporate-media conglomerate such as Sub Pop. They're using this platform as a megaphone for their protest music, amplifying and centering Chicana, queer, and Latino voices in the far-too-whitewashed world of rock. Opener "A Wall" rides the feel-good power that drove so many tunes by The Clash and Wire as it calls out the idea that a wall could ever succeed in snuffing the humanity and spirit of those it's designed to crush. "Promissory Note" is a bold self-introduction to the exclusive clubs that either ignore Downtown Boys' existence, or possibly worse, feign appreciation: "So what's the matter, you don't like what you see? I can't believe you're even talking to me!" Ruiz shouts that she won't light herself on fire to keep you warm, and, like underground rock pioneer Alice Bag's vitriolic verse, it's a claim you wouldn't dare question. "Tonta," one of the three songs written and sung primarily in Spanish, is an introspective and emotional portrait of anguish, and it calls to mind the mighty scrum of Huasipungo at an ABC No Rio matinee.
With:
Greg Wheeler and The Polygamist Mall Cops
Quick Piss
Buy tickets online!
---
&copy 2017 Vaudeville Mews