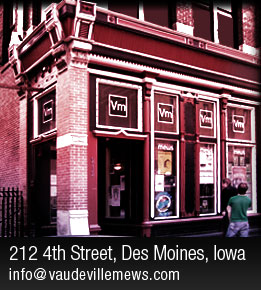 Carti Bankx
11/22/17
With:
Ted Park
Wave Chapelle

Crowbar
11/26/17
With:
Tombs
Incite
Tricounty Terror
Absolute Power
Grossfacekilla

Hockey Dad
11/27/17
With:
Contakta
The Host Country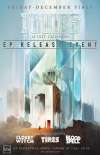 Druids EP Release Party
12/01/17
With:
Tires
Closet Witch
Blood Spell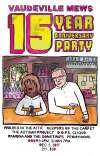 Vm 15 year Anniversary Party!
12/02/17
With:
Keepers of the Carpet
Wolves in the Attic
The Autumn Project
D.O.P.E. Clique
Ramona and the Sometimes
Pennyhawk

Juanita Stein
12/04/17
With:
Squirrel Flower

Healing Together: A Fundraiser
12/06/17
With:
Glitter Density
Annalibera (solo)
Collidescope
Maddie Johnson (poet)

Exhumed
12/07/17
With:
Arkaik
Traffic Death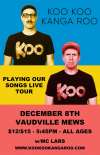 Koo Koo Kanga Roo
12/08/17
With:
MC Lars

Brilliant Crafts and Wares Fair 5
12/10/17

Hugh Masterson
12/11/17
With:
Dustin Smith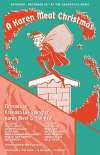 A Karen Meat Christmas
12/16/17
With:
Brendan Lee Spengler
Extravision

Winterland's New Years Eve Celebration
12/31/17
With:
Pale Blue Erf

Mammoth Grinder
02/22/18
With:
Idolist
Blood Spell

When Particles Collide
Sat, August 5, Doors: 9:30 pm - Show: 10:00 pm - 21+ - $5
Artist Website
The Vaudeville Mews presents...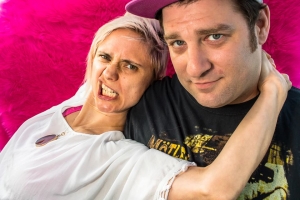 In March of 2010 Sasha and Chris met when they were both cast in a Bangor Maine production of Hedwig and The Angry Inch. Sasha played guitar and Chris played drums. They fell in love with playing together and later just plain old fell in love. In January of 2011 They played their first official show as When Particles Collide and since then have been on a non-stop rock 'n roll adventure. Since the summer of 2012 When Particles Collide has been touring the country for 9-14 weeks per year and playing consistently across New England the other 43-38 weeks. All told the duo racks up between 70-100 shows per year resulting in one of the most dynamic, engaging and professional live shows you can see at a mid sized venue.
With:
Curse WordNight Like This
---
&copy 2017 Vaudeville Mews