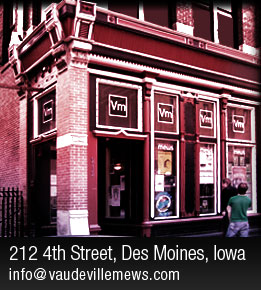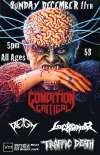 Condition Critical
12/11/16
With:
Reign
Lockgnar
Traffic Death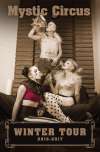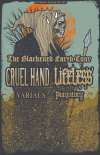 Cruel Hand
12/15/16
With:
Lifeless
Varials
Purgatory
Wicked World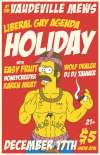 A Liberal Gay Agenda Holiday
12/17/16
With:
Easy Fruit
Honeycreeper
Karen Meat
Wolf Dealer
DJ DJ Tanner

Last Night of Summer Soiree
12/23/16

Standing Rock Benefit
12/30/16
With:
Extravision
Honeycreeper
Office
Idolist

New Year's Sleaze
12/31/16
With:
Quick Piss
The Broken Ones
The Vahnevants
Skin of Earth
Greg Wheeler and The Polygamist Mall Cops

Jerry G Jubilee / Dead Night II
01/14/17
With:
Deadline String Band as Old and In The Way
Winterland as Jerry Garcia Band
Fancy Pants w JB Williams as The Grateful Dead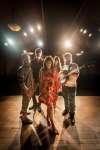 The Railsplitters
01/15/17

Full Of Hell
01/26/17
With:
Wanderer
Closet Witch
War Prayer
Artorias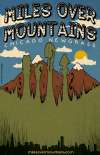 Miles Over Mountains
01/27/17
With:
The Dead Line String Band
The Cardinal Sound




Auralie Wilde and The Amazing Al
Sat, December 10, Doors: 6:30 pm - Show: 7:00 pm - All Ages - $10
Artist Website
The Honeymoon Tour featuring...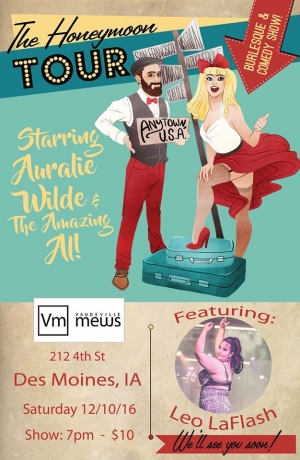 Fasten your seat belts everyone because Auralie Wilde and The Amazing Al invite you to hit the road with them on 'The Honeymoon Tour' this fall! Join the newlyweds as they wave goodbye to their reception guests and hello to blue skies and open roads. The Honeymoon Tour is a variety show full of laughs, love, and LOTS of skin. The show is jam packed with comedy, burlesque, music, classic car games and sing-a-longs!
---
Tstmrkt
Sat, December 10, Doors: 9:30 pm - Show: 10:00 pm - 21+ - $10
Artist Website
The Vaudeville Mews presents...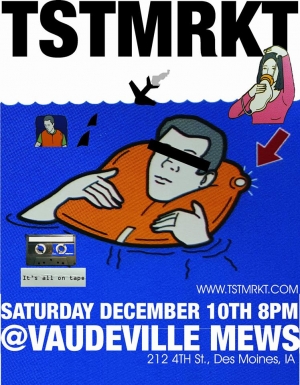 TSTMRKT returns with Part I and II of it's performance piece "DVDA" in a single, content-heavy, touring production that will make its way through the United States and promises to push the boundaries of good taste and artistic integrity. TSTMRKT is a critically acclaimed, ever-growing performance art stunt that incorporates theater, sound collage, and film into an absurd, "cut-n-paste" evening of cheap theatrics and explorations of time and space. It also happens to be incredibly funny. More information on TSTMRKT can be found at the website www.tstmrkt.com
---
Condition Critical
Sun, December 11, Doors: 5:00 pm - Show: 5:45 pm - All Ages - $8
Artist Website
Nate Fetus presents...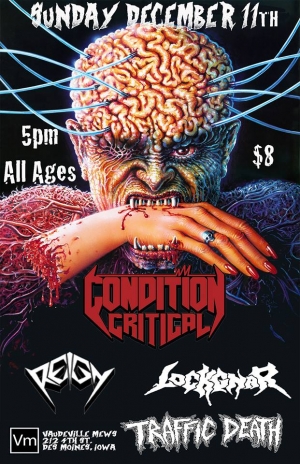 Established in late 2010, and after a few adjustments in their lineup, the four piece thrash band "Condition Critical" was brought to life. The band, a four piece fronted by vocalist and guitarist Ryan Taylor, with members Ryan Donato on drums, bassist Mike Dreher, and guitarist Tony Barhoum, create a whirlwind of chaos and flowing brutality that can be found nowhere else on earth. With influences like "Slayer", "Demolition Hammer", "Overkill", "Vio-lence", "Testament", "Exodus" and "Kreator". Condition Critical brings all this and more to the table. "A literal war of sound that attacks you with deadly perfection", says New Wave of Thrash Zine posted in Oct. 2011. "They deliver more than expected, and have blown almost every other band out of the water".
With:
Reign
Lockgnar
Traffic Death
---
Paper Bird
Sun, December 11, Doors: 9:30 pm - Show: 10:00 pm - 21+ - $10
Artist Website
The Vaudeville Mews presents...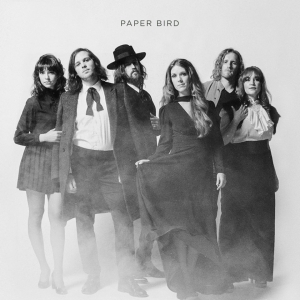 For Paper Bird, their new album marks a milestone. More importantly, it provides them with a new beginning, a new chapter in their trajectory that sees them redefining their direction, a change in their musical sensibility while maintaining their trademark upbeat attitude. The band's self titled album, available September 9th on Thirty Tigers Records/ Sons of Thunder Records, introduces vocalist Carleigh Aikins to the line­up, whose previous credits include extended stints with the critically acclaimed bands Bahamas and Fox Jaws. Her addition to the band adds an extra edge, highlighting a clear sonic evolution. A shift in the band's line­-up has opened up new possibilities, swapping electric guitars and amped up instrumentation for the laid back, folk­-flavored sound they favored in the past.
With:
Lady Mary
Buy tickets online!
---
Mystic Circus
Mon, December 12, Doors: 8:30 pm - Show: 9:30 pm - 21+ - $10
Artist Website
The Vaudeville Mews presents...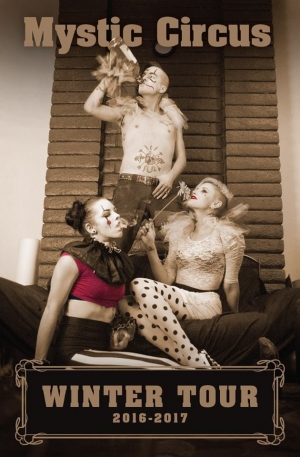 Rush Hicks- Host and circus/ sideshow extraordinaire with an appetite for disaster. This man has a death wish and isn't afraid of anything. Swallowing swords, setting himself on fire, piercing his muscles or contorting his body is just an average day for this wild character. He also is a fire-breathing burlesque performer. Shauni Fatale Deveaux- Beautiful and charismatic lyra performer, burlesque dancer, and performance artist. Writing poetry with her body is only the half of what this girl brings to the table. Mystery and magic, her performances will leave you wanting more. Rikki Morehouse- Hand balancing contortionist, this wacky and beautiful girl will charm your pants right off. She is also the leader of Cirque Sacramento. She also tend to set herself on fire for really her own amusement. Mystic Circus got its start in none other than The Playground of the World, Coney Island in 2012. Traveling this great nation for the past 4 years we bring you an amazing adults only circus like nothing you have ever seen. Expect blood, sweat, tears and a lot of skin! Come one come all..... wait.... Stay at home if you are conservative, close minded, easily offended or overly religious. We wouldn't like to shake your delicate sensibilities. Do attend if you are fun, outgoing and don't mind getting pull on stage to be a part of the fun. One night and one night only!
---
Austin Jones
Wed, December 14, Doors: 5:00 pm - Show: 5:00 pm - All Ages - $18
Artist Website
Metro Concerts Live presents...
Cruel Hand
Thu, December 15, Doors: 5:00 pm - Show: 5:30 pm - All Ages - $15
Artist Website
Keaton Stoneburner x Des Moines Hardcore Collective Presents...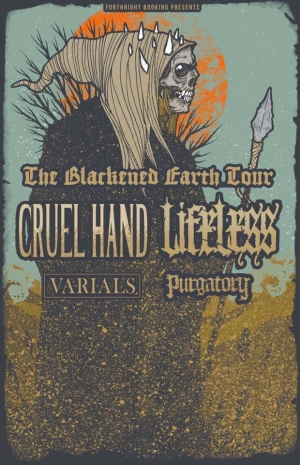 Cruel Hand is an American hardcore punk band from Portland, Maine that formed in 2006. As of 2013, Cruel Hand has released four full-length albums: Without a Pulse on 6131 Records, Prying Eyes and Lock & Key on Bridge 9 Records and The Negatives on Hopeless Records. The band has also released three EPs on Bridge 9: Life in Shambles, Cruel Hand and Born Into Debt, We All Owe a Death. Their song "Face to Face" is featured on Triple B Records' 2010 America's Hardcore Compilation.
With:
LifelessVarials Purgatory Wicked World
Buy tickets online!
---
A Very Slaughterhouse 6 Christmas
Fri, December 16, Doors: 5:00 pm - Show: 6:00 pm - All Ages - $5
Artist Website
The Vaudeville Mews presents...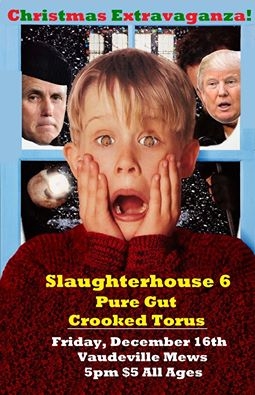 We can all agree, 2016 has been quite the shitstorm. This is why Slaughterhouse 6 is coming out of retirement for one night to give YOU the greatest Christmas you could ever experience! Expect lots of festive hijinks, games, and an exorbitant amount of laughs as we play all of the favorites off of our first album, Good Clean Fun, and some other yuletide crowd-pleasers. Bring your friends, bring some nog, and get down with Santa Ketch and the gang as we all celebrate what this season is really about and have ourselves a real CHRISTMAS EXTRAVAGANZA (Dad edition).
With:
Pure Gut
Crooked Torus
---
Pets with Human Names
Fri, December 16, Doors: 9:30 pm - Show: 10:00 pm - 21+ - $5
Artist Website
The Vaudeville Mews presents...
| | |
| --- | --- |
| One week from today: | Two weeks from today: |
&copy 2016 Vaudeville Mews