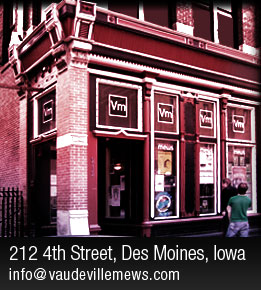 Mighty Shady New Year's Eve
12/31/14
With:
Strong Like Bear
Secret Freedom
Come Unity

Brazilian 2wins
01/02/15
With:
Mars Meusic
Aquamarine Dream Machine

Mike Adams at His Honest Weight
01/10/15
With:
Doctor Dentist
Canyons

Skull Fist
01/12/15
With:
Elm Street
Night Demon
7 Minutes in Heaven
01/13/15
With:
Austin Jones
The Millennium
The Resolution

GANZA 8:30
01/17/15
With:
The Poison Control Center
Derek Lambert & The Prairie Fires
Quick Piss


Hot Club of Cowtown
02/18/15

Corners
02/20/15
With:
The Vahnevants
Goldblums
DJ DJ Tanner

Waka Winter Classic
02/21/15

Lucca Soria
Tue, December 23, Doors: 8:30 pm - Show: 9:00 pm - 21+ - $5
Artist Website
The Vaudeville Mews presents...
Ugly Sweater Music Fest
Fri, December 26, Doors: 5:00 pm - Show: 5:45 pm - All Ages - $5
Artist Website
Equitis Media presents...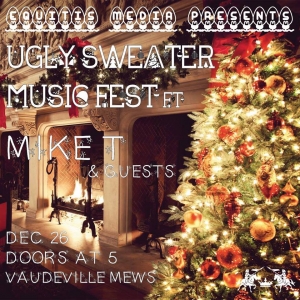 Come celebrate the holiday season and experience Mike T's new EP live in addition to a variety of talented artists. Wear an UGLY SWEATER or SANTA HAT and pay $5 entry For all others entry will be $6 Best ugly sweater receives a free t-shirt
With:
Luke TaslerQuinn O' MearaDozzletronKing CasperMax Petersen
---
Last Night of Summer
Fri, December 26, Doors: 9:30 pm - Show: 10:00 pm - 21+ - $8
Brodacious presents...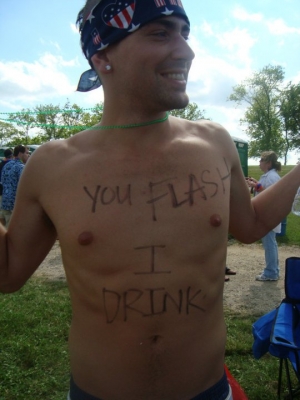 The 5th Annual Last Night of Summer Soiree 2014 A half decade has expired, and now, LNOS turns Five. Most children would be seeing signs of development by the age of Five. Like the ability to stand on one leg for nine seconds, peddle a tricycle, or respond to basic commands like STOP, NO, and Don't! Unfortunately, our child was raised by the party people of Iowa, and all this bad baby hears is NO, Don't Stop! Since no one likes a teared up Juvenile we have to give this youngster what it deserves. The most ferocious celebration North of the Mason-Dixon line. Prepare yourself for gratis Madhouse Brew, random smooches, apple pie shots, and a jubilation of life. We are pleased to welcome you to Join us Friday, December 26th at the Vaudeville Mews as Des Moines finest entertainer, DJ Brodacious pumps beats so vicious it will wake this beastly party child from its slumber to cry tears of jolly. Tickets are $8 and will include: • 2 FREE kegs thanks to our friends at MADHOUSE Brewery http://www.madhousebeer.com • Homemade Apple Pie shots for $2...All night • $3---PBR tall Boys, Domestic Bottles, Well Drinks...All night • DJ Brodacious....All night • And since it's Bonus season we will open a generously large appreciation tab for all our good pals.
---
Oh Holey Tights
Sat, December 27, Doors: 9:00 pm - Show: 10:00 pm - 21+ - $10
Artist Website
Iowa School of Burlesque presents...
The dames from the Iowa School of Burlesque will be trimming trees, spinning dreidels, building snowmen, and sitting on Santa's lap. Join them for an evening of festivities and find out if you've been good this year or if you'll be getting a lump of coal. Raffle, prizes, and shenanigans... look out for the mistletoe and wear your holiday best! Hosted by the one and only Gary Gruesome with special guests Duke LeSling, Sigourney Beaver, and more! Bring a donation of a cold weather item (mittens/gloves, hats, scarves) or personal hygiene items (travel sized soap, shampoo, toothpaste) for Central Iowa Shelter & Services and save $2 off admission.
---
D.M.I. All Stars 2
Sun, December 28, Doors: 5:00 pm - Show: 5:45 pm - All Ages - $10
Artist Website
Xplizit Records presents...
&copy 2014 Vaudeville Mews