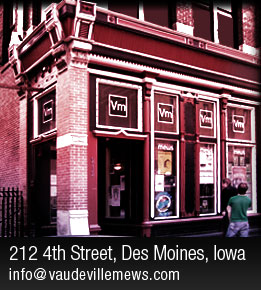 Carti Bankx
11/22/17
With:
Ted Park
Wave Chapelle

Crowbar
11/26/17
With:
Tombs
Incite
Tricounty Terror
Absolute Power
Grossfacekilla

Hockey Dad
11/27/17
With:
Contakta
The Host Country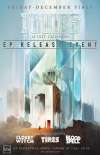 Druids EP Release Party
12/01/17
With:
Tires
Closet Witch
Blood Spell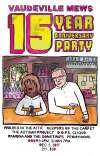 Vm 15 year Anniversary Party!
12/02/17
With:
Keepers of the Carpet
Wolves in the Attic
The Autumn Project
D.O.P.E. Clique
Ramona and the Sometimes
Pennyhawk

Juanita Stein
12/04/17
With:
Squirrel Flower

Healing Together: A Fundraiser
12/06/17
With:
Glitter Density
Annalibera (solo)
Collidescope
Maddie Johnson (poet)

Exhumed
12/07/17
With:
Arkaik
Traffic Death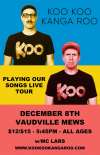 Koo Koo Kanga Roo
12/08/17
With:
MC Lars

Brilliant Crafts and Wares Fair 5
12/10/17

Hugh Masterson
12/11/17
With:
Dustin Smith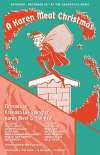 A Karen Meat Christmas
12/16/17
With:
Brendan Lee Spengler
Extravision

Winterland's New Years Eve Celebration
12/31/17
With:
Pale Blue Erf

Mammoth Grinder
02/22/18
With:
Idolist
Blood Spell

Bernie & The Wolf
Sun, November 19, Doors: 5:00 pm - Show: 5:30 pm - All Ages - $5
Artist Website
The Vaudeville Mews presents...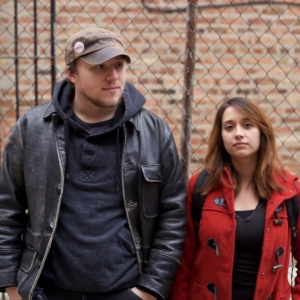 Chicago, Illinois indie rock duo Bernie & The Wolf is taking you back to school with smooth grooves and good old-fashioned smart songwriting. They're sweet and fun on stage, but make no mistake this band packs a punch. Sweet and dangerous like a molten toasted marshmallow, this after-dinner treat will rock your socks with a dynamic and captivating show that's got a little something for everyone.
With:
Easy Fruit
Tires
The August Guns
---
Carti Bankx
Wed, November 22, Doors: 5:30 pm - Show: 6:00 pm - All Ages - $20
Artist Website
The Vaudeville Mews presents...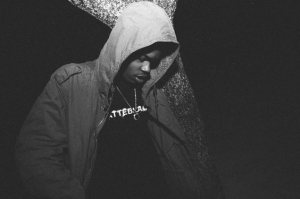 Carti Bankx – 18 year old from Milwaukee, Wisconsin, is the voice of the youth. In 2015, Carti landed a spot on Pigeons and Planes' "20 Under 20" list and Noisey described him as one of "Milwaukee's Best". By the age of 16, Carti had premiered music on some of the most prominent blogs in the industry, like – The Fader, Noisey, Complex, MTV & HotNewHipHop (among others). Eventually he was noticed by Skizzy Mars and was added to Penthouse Music, a creative collective that Skizzy started. Carti released his debut project, Young & Heartless (via. Billboard) on August 10th, and will be on tour this Fall.
With:
Ted Park
Wave Chapelle
Buy tickets online!
---
WLKR & Brian Clark Music
Sat, November 25, Doors: 6:00 pm - Show: 7:00 pm - All Ages - $10
Artist Website
Lyric X-Press presents...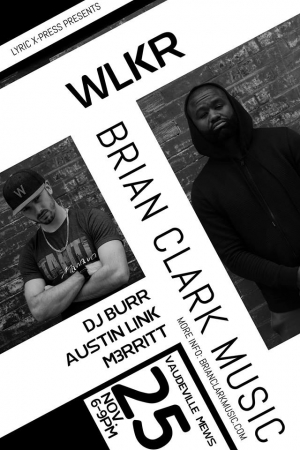 WLKR and Brian Clark Music team up to give you an amazing, collaborative performance! Fresh off his first concert, WLKR drew over 100 guests to see him perform his first ever concert at Vaudeville Mews and he looks to continue the trend with his next performance! Brian just released his highly anticipated album, "Heaven Flow" which is available everywhere and has received critical acclaim for the material featured on it. The show will also feature performances from Austin Link, DJ Burr, and M3RRITT.
Buy tickets online!
---
Linear Symmetry
Sat, November 25, Doors: 9:30 pm - Show: 10:00 pm - 21+ - $8
Artist Website
Sub Conscious Productions Presents...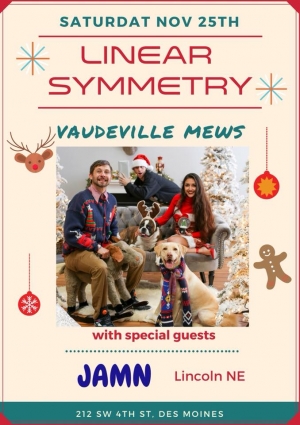 Chris Story (Keyboards) and Andy Alback (Drums) combined forces in 2013 to form the live-electronica group Linear Symmetry. The duo from Omaha has been on a direct path since their inception and continue to progress to new heights with every performance. Now Huma has joined the crew lending her soaring vocals, stunning violin and incomparable energy to complete the symmetry. They have quickly become known for their tight, energetic live shows which feature moving audible dynamics in the form of organic dance music. Pair this with their brilliant visual package and it's no surprise they have become festival favorites, late night staples and a group TheUntz.com has labeled as one to watch.
With:
Jamn
---
&copy 2017 Vaudeville Mews